Current Local Weather Conditions in Buxton, Derbyshire, UK - Updated Every 5 minutes
For Local People, Visitors, Hill Walkers, Ramblers, Climbers, Hot Air Balloon Pilots, Cavers, Holiday Makers, Anglers, Kayakers Canoeists, Paraglider Pilots, Horse Riders, & Lovers of the great Outdoors and "Expats" - And now "Metal Detectorists!" (Just a sample of some of the thousands who have emailed in about this site!) (Thank you for all the many comments received - Michael Hilton, mh@22mh.com )
.... Weather Forecast for Buxton & The Peak District: ...

If you click on any of the tiny google adverts, on this page, in which you might be interested - then Google pay me a penny or so! (I stress that it costs you nothing at all, of course!). That makes a little money each week, which helps with the costs of Cameras, Weather Equipment, Sensors etc, IT Equipment, and Website Hosting for the website - PLEASE do not think I am begging! ...........I am delighted, that you have visited buxtonweather, whether you click on an ad or not! ... Michael-----------
*** ***
-----Please send me any traffic reports, which may help your fellow travellers - CLICK HERE mh@22mh.com
........ ... ... .. .. ... ... ... ... .................Weather Forecast
Tuesday Evening and Night: Well, The Peak District missed most of the patchy showers this afternoon - there were some heavy showers nearby! - still a chance of further showers through early evening - then showers clearing to a mainly dry late evening and nighttime with clear periods - some mist patches forming in places - light winds - Minimum Air Temperature 5 °C.
Wednesday:
Wednesday: bright periods and after a mainly dry start patchy showers arriving, some could possibly be heavy - any showers mainly clearing through the afternoon - fairly light westerly winds - Maximum Air Temperature 14 °C.
Wednesday Evening and Night: a mainly dry evening and nighttime with bright and then clear periods - light winds - under clear skies and with light winds, there is a possibility of a ground frost in places - Minimum Air Temperature 3 °C.
Thursday:
Thursday: a more cloudy day - after a mainly dry start, showers arriving - there may be some limited brighter periods too later - quite lively south westerly winds - Maximum Air Temperature 13 °C
Thursday Evening and Night: showers through the evening and nighttime - lively south westerly winds - a more mild night - Minimum Air Temperature 7 °C.
Outlook For Friday to Sunday:
Friday: showers, some could be heavy, and some limited brighter periods - quite lively south westerly winds - Maximum Air Temperature 12 °C. Saturday: showers and some limited brighter periods - moderate westerly winds - Maximum Air Temperature 11 °C. Sunday: showers and some limited brighter periods - moderate south westerly winds - Maximum Air Temperature 11 °C. ......................................................
As one of you has said to me today in an email – "are we stuck in this rut of changeable weather with an endless stream of cool weather, showers, persistent rain, thunderstorms and hail?" (we just missed the worst of the heavy rain yesterday, Sunday afternoon which caused floods in a wide area from Sheffield northwards!.
What makes this all a little disappointing is that May is supposed to be a fairly dry month of the year, so what is going wrong with the weather?
One big problem sits over Greenland, where there is a large, powerful and stubborn block of high pressure – this is diverting the jet stream south across the UK and sending the changeable weather over the UK. Already the rainfall figures for the first half of the month over England and Wales are near the average for the whole of May. In Buxton we have had nearly 150mm (nearly 6 inches) of rain – that is heading (If this carries on) to nearly double our Buxton average!
The drought of April now seems like a distant memory!
Looking through The Met Office Slopes Weather Station records, our wettest May since our records started in 1860 was 1967, when we had 186mm of rain – against a national average of 141mm.
So my correspondent goes on to ask, "does a wet May herald a dreadful summer?" Maybe we can take heart because May 1967 was followed by a fairly warm July and August. And another washout in May 2006 was followed by a scorching hot and sunny July. May 2007 was another damp squib, with both May bank holidays washed out. That summer was fairly dire, however, with widespread flooding in July! ......We will see!!.......

...Photographs - delighted to receive your photographs (please send to Michael - email mh@22mh.com) to display on this site - anything about this lovely area we live in - which will be of interest to viewers of buxtonweather.co.uk - I will always credit the sender - (and I may take the liberty of adding some local information, and local history!). Photos relating to our weather, local events, our wonderful Peak District scenery, local animals and birds, love of the great outdoors - or what have you!! I may delay posting photos, through extreme weather events - will save them for once things calm down again! Please click on a photo to see the full size versions of all the photos - then just click the back arrow at the top left, to come back to here:


AND I have had requests to see photos which have been removed - so from April 1st 2019, I have started an archive of many of the previously shown photographs CLICK HERE to see those.
Like to see recent "SNOW" Photos CLICK HERE


Sorry!! - although some of our bird boxes have gained some nesting material over the last few days, none seem to becoming a nest - if things change, will place a notice and link here straight away - in the meantime, as a consolation, we have noticed today that a pigeon has nested in a tree at the front of our house - and has one chick hatched, and one egg!! - live camera installed today!- CLICK HERE (Ignore the wording on the page - just using the Blue Tit Page temporarily) - It is interesting to note that the pigeon does not seem to leave the nest for food very often - but unlike blue tit chicks who each need an incredible 100 grubs a day, baby pigeons feed on "crop milk" produced by female and male pigeons, for the first week or so! ("Crop Milk" is a gloopy milky nutrition produced in the bird's crop, by male and female birds to feed chicks) It also seems that the female pigeon sits on the nest from evening to the morning and the male does the day shift!

I have put the bird feeder camera back online - you likely have lots of birds of your own - but if you want to watch birds at a feeder, in a tree in our garden, CLICK HERE!
-Things to do in BUXTON - "Explore Buxton" Click Here !! - -Or Our Local Paper - Buxton Advertiser - Click Here!! .......-
-Like to read a quick, one page guide, to the joys of Buxton? - (Written recently by the Sunday Times) - and why you should visit this lovely Town!? CLICK HERE
Met Office - Longer Range Forecast, for the entire UK ©Met Office.:
........... Sunday 23 May - Tuesday 1 Jun
Unsettled weather continues through the start of the period, with widespread showers. Persistent rain is also possible, turning heavy locally and moving eastwards through the UK, particularly on Sunday. As next week progresses there is a chance of more settled conditions to gradually become established. Rain and showers are likely to clear away to the east, leaving drier and less windy conditions behind by the end of the week. Temperatures look likely to remain on the cool side, though feeling pleasant in the sunshine. Night temperatures could become chilly, with late season frost in prone spots a possibility. As we move into the following week, things become more uncertain, but indications suggest a continuation of drier weather with the possibility of temperatures starting to increase slightly.
Tuesday 1 Jun - Tuesday 15 Jun
Confidence is low for this period, which is usual during spring and early summer. Current expectations is that conditions will be predominantly dry, especially across the south and east. Less settled interludes are still possible, however, especially in the northwest. There are indications that temperatures will likely start recovering, moving more towards typical temperatures for this time of year. ..................................

As well as my own weather station in Harpur Hill in Buxton, at www.buxtonweather.co.uk I am proud to be a member of the Team of Volunteers, manning the Met Office Climatological Station, on the Slopes, near the Crescent in Buxton - would you like to know more about that weather station? - what it does - and its incredible 150+ years history? - If so please CLICK HERE ----------------
**** ***
If you click on any of the tiny adverts, on this page, in which you might be slightly interested - then Google pay me a penny or so! (I stress that it costs you nothing at all, of course!). That makes a little money each week, which helps with the costs of Cameras, Weather Equipment, Sensors etc, IT Equipment, and Website Hosting for the website - PLEASE do not think I am begging! ...........I am delighted, that you have you have visited buxtonweather.co.uk, whether you click on an ad or not! ... Michael at buxtonweather
Weather Links

See an almost live (updated every 30 seconds) image over Buxton Rooftops looking North towards Brown Edge - Height 340 Mts.
Please note that this image will be tilted down and left, to show more of the road conditions, in snowy periods


Press here for a Live Video Webcam, on the A537 Cat & Fiddle Road


Click on the icon below to see the latest RAIN ALARM - Radar picture (This link does not work for Smartphone's - only laptops and desktops)


A LIVE WEBCAM on the A53 Leek Road, at the famous Winking Man Pub CLICK HERE!




Like to see the weather at The Cat & Fiddle Pub (On the A537 Macclesfield Road) Height 518 Mts - CLICK HERE!

DCC Camera just near The Cat & Fiddle Pub (On the A537 Macclesfield Road) Height 518 Mts - CLICK HERE!


DCC Camera A515 Ashbourne Road near Hurdlow - CLICK HERE!


DCC Camera A623 at Tideswell Crossroads - CLICK HERE


Like to see the weather at Flash Bar Stores Quarnford, near The Travellers Rest Pub, (On the A53 Leek Road) Height 469 Mts- CLICK HERE:!


A LIVE WEBCAM at Electronic Security Installations Ltd, on Bingswood Trading Estate in Whaley Bridge - overlooking the River Goyt
CLICK HERE:


Click below to a webcam at the HSL site, above Harpur Hill, Buxton - Location SK055705 - Height 390 Mts (Updated every 30 minutes) - CLICK HERE:!



Like to see where the Jet Steam is RIGHT NOW? - Click Here


Like an explanation of how the Jet Stream affects our weather? - CLICK HERE

LIGHTNING - Click Here to View Current Lightning Activity Over the UK




Site and Weather Station Maintained by Michael Hilton, Buxton, Derbyshire
© M Hilton - All Rights Reserved

Conditions At:
1:07 on 19/5/21

Outside, Shade Temperature

6.4

°C

Dew Point
3.9°C
Humidity
84%
Barometer (corrected to sea level)
1014mB
Rate 0.17mB/hr
Wind Figures:
Wind Speed
2mph
Wind Direction
NNW
Wind Chill (How the temperature actually "feels")
6.2 °C
Wind Currently Gusting To
5mph
Peak Wind Gust Today
13mph at 0:00
Rainfall Figures:
Rainfall Today (Since Midnight)
0.0 mm
Rainfall in the last hour
0.0 mm
Total Rainfall in May
150.2 mm
Total Rainfall in April
17.0 mm (0.67 inches)
Total Rainfall in March
143.0 mm (5.63 inches)
Total Rainfall in February
101.2 mm (3.99 inches)
Total Rainfall in January
295.2 mm (11.62 inches)
Total Rainfall in December
204.2 mm (8.04 inches)
Total Rainfall in November
130. 00 mm (5.11 inches)
Total Rainfall in October
203. 50 mm (8.01 inches)
Total Rainfall in September
53. 50 mm (2.11 inches)
Total Rainfall in August
154 . 20 mm (6.07 inches)
Total Rainfall in July
106 . 10 mm (4.18 inches)
Total Rainfall in June
116 . 00 mm (4.57 inches)
Total Rainfall in May
18 . 80 mm (0.74 inches)
Total Rainfall in 2020
1531.86 mm (60.31 inches)
Total Rainfall in 2019
1424.2 mm (56.07 inches)
Total Rainfall in 2018
1038.8 mm (40.90 inches)
Total Rainfall in 2017
1250.4 mm (49.23 inches)
Total Rainfall in 2016
1055.2 mm (41.54 inches)
Total Rainfall in 2015
1191.20 mm (46.90 inches)
Total Rainfall in 2014 (For earlier figures see the link top left)
1245.60 mm (49.04 inches)
Sunshine Figures:
Sunshine hours on Tuesday (Sunrise to Sunset) (Updated after Sunset)
5 . 50 Hours
Sun Hours in May
63 . 84 Hours
Sun Hours in April
208. 82 Hours
Sun Hours in March
91 . 32 Hours
Sun Hours in February
71 . 03 Hours
Sun Hours in January
28. 17 Hours
Sun Hours in December
25. 65 Hours
Sun Hours in November
36 . 56 Hours
Sun Hours in October
49 . 04 Hours
Sun Hours in September
152 . 91 Hours
Sun Hours in August
127 . 39 Hours
Sun Hours in July
99 . 50 Hours
Sun Hours in June
154 . 68 Hours
Sun Hours in May
248 . 12 Hours
Sun Hours in 2020
1330.53 Hours
Sun Hours in 2019
1316.47 Hours
Sun Hours in 2018
1431.27 Hours
Sun Hours in 2017
1096 . 00 Hours
Sun Hours in 2016
1219 . 59 Hours
Sun Hours in 2015
1239 . 88 Hours
Sun Hours in 2014(For earlier figures see the link top left)
1226 . 69 Hours
Monthly Average Temperatures:
Average Temp in April
5 . 75 °C
Average Temp in March
5 . 73 °C
Average Temp in February
3 . 26 °C
Average Temp in January
1 . 76 °C
Average Temp in December
3 . 52 °C
Average Temp in November
7 . 02 °C
Average Temp in October
8 . 42 °C
Average Temp in September
12 . 27 °C
Average Temp in August
15 . 17 °C
Average Temp in July
13 . 46 °C
Average Temp in June
13 . 45 °C
Average Temp in May
11 . 22 °C
Average Temp in April
8 . 91 °C
Average Temp in March
4 . 76 °C
Average Temp in February
4 . 10 °C
Average Temp in 2020
8. 93 °C
Average Temp in 2019
8. 65 °C
Average Temp in 2018
8. 87 °C
Average Temp in 2017
9. 60 °C
Average Temp in 2016
8. 95 °C
Average Temp in 2015
8. 54 °C
Average Temp in 2014 (For earlier figures see the link top left)
9. 24 °C
Today's Temperature Extremes:
High Temperature
7.4°C at 0:00
Low Temperature
6.4°C at 1:07
Other Extremes (Since March 2003)
Highest Shade Temperature
31.9°C at 15.25 on 25th July 2019
(Previous highest was 30.7°C at 15.51 on 9th August 2003)
Low Temperature
-11.0°C at 07:35 on 20th December 2010
Highest Daily Rainfall (Midnight to Midnight)
77 mm (3.03 inches) on 10th August 2004
Highest Monthly Rainfall
308 mm (12.13 inches) in February 2020
(Previous highest was 287mm (11.30 inches in August 2004)
Highest Daily Sunshine Hours
16. 36 Hours on 27th June 2018
(Previous highest was 16. 19 Hours on 16th June 2010)
Highest Monthly Sunshine Hours
281. 87 Hours in July 2006
Highest Wind Speed Gust
88.08 mph on 21st January 2012
Astronomical Data
Sunrise
5:01
Sunset
21:06

Moon Phase Indicator Below - Click on the icon for an explanation, and details of the moon's phases, and a calculator of the moon's phase on any day in history - or in the future!

Moonrise
11:27
Moonset
2:47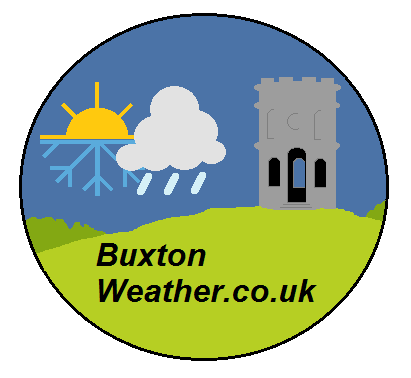 Please feel free to link your website to this site (an email informing me would be appreciated) © M Hilton - All Rights Reserved